Removing a VoiceThread from a Group
If you have shared a VoiceThread with a Group, you can remove it from that Group at any time so that the members no longer can access it. If you are the person who created the Group or you are the instructor in a Group created by your Learning Management System, you can also remove other people's VoiceThreads from it in case they have become shared there accidentally or inappropriately.
From the VT Home page
Click on the sidebar icon on the left side of your VT Home page.
Click on the Group name to see all VoiceThreads shared with that Group.
Hover your mouse over a VoiceThread thumbnail.
Click on the remove button.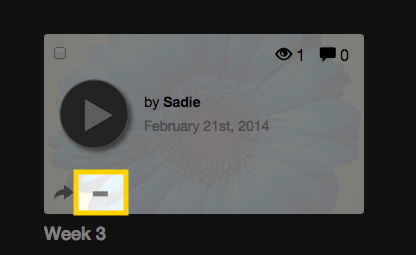 ---
From the sharing area
Access the sharing area for your VoiceThread.
Go to the "Who has access" tab.
Click the "x" next to any Group from which you'd like to remove access.
Click "Save changes".